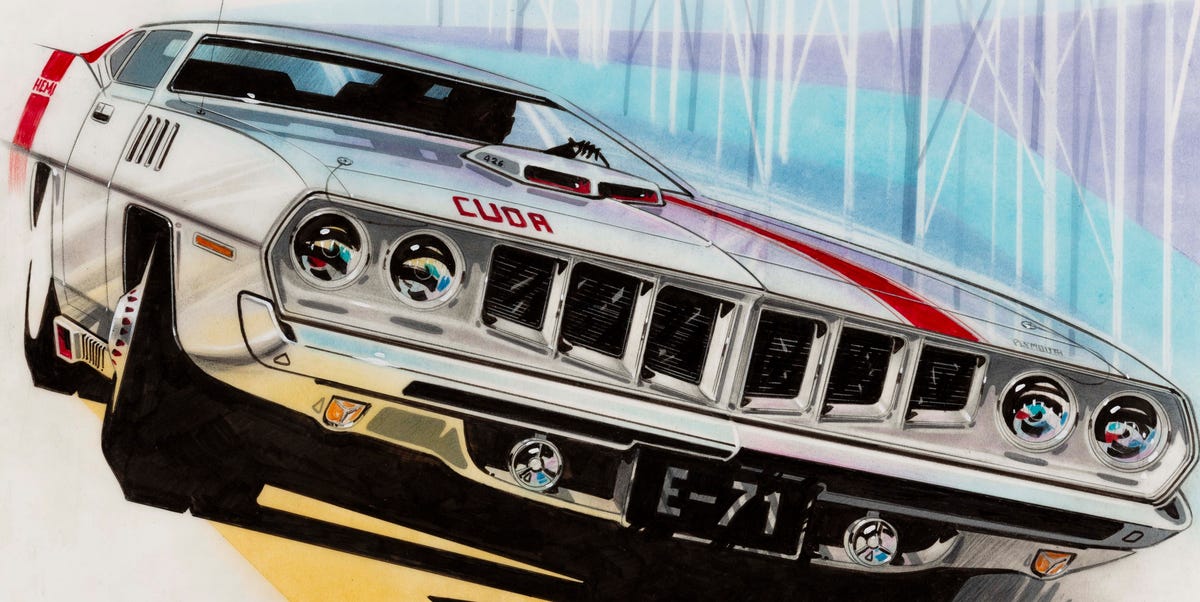 70 Years of Automotive Design
In 1985, the Detroit Institute of Art hosted an exhibit called "Detroit Style: Automotive Form 1925-1950," which the institute called a showcase "that bridges the gap between industrial design and the fine arts as it demonstrates the aesthetics and history of automotive design in a period now considered classic." Thirty-five years later, the DIA completes the design story with a new exhibit called "Detroit Style: Car Design in the Motor City, 1950-2020," open now and running until June 27, 2021.
By the 1950s, motor vehicles had begun their transition into commodities, not yet as pervasive and presumed as electric light and ice, but swiftly cruising that way. Even today, though, the car is a peculiar product—obliged to run as reliably as an appliance while still expressing an artful style that precludes it from being regarded as an everyday widget. Cars are expensive to produce, taxing to buy, and the buyer is forced to consider investment-grade concerns such as substantial longevity and resale value.
That knotty combination forces automakers to put massive effort into the final designs that reach the showroom floor. The DIA focuses its spotlight on this behind-the-scenes work, exposing "the remarkable artistry of the stylists and designers who define the look of American automobiles."
Exhibit curator Ben Colman told us the displays represent four years of planning, with guidance from an advisory committee made up of designers from the Big Three, educators from the College for Creative Studies, and design historians. Colman said the 12 coupes and sedans spread through six rooms weren't chosen only for their import, but also as answers to questions like, "What would I drive from L.A. to Palm Springs, or to a nice dinner?"
The vehicles, however, are Best Supporting Actors to the exhibit's stars: the 35 sketches, drawings and paintings that outline the range of ideas designers explored before achieving the final products we saw hit showroom floors. William Porter's 1959 sketch compares his idea for a "fully streamlined monocoque high-speed six-passenger sedan" to his idea for the six-passenger 1961 Pontiac Catalina hardtop. Ralph Amprim's illustrations in 1970 for the Toronado describe experiments with detailing on the front and rear fascias. And by being able to view John Gilson Gump's 1961 line drawing of a two-door Lincoln Continental next to Wayne Kady's idea for a 1967 Cadillac Eldorado, it's easy to see the origins of the long, low, minimalist bodywork that would thrive in the seventies.
There are examples of capital "F," capital "A" Fine Art as well. William Brownlee's 1957 Chrysler 300 Front End could hang anywhere in the DIA. In 1960, Syd Mead's visualization of the Elwood Engel Design for a Gyroscopically Stabilized Two Wheel Car could be driven straight from the illustration board to his work on Blade Runner and Aliens. And James Sherburne's Ford Interior Proposal, albeit just a bench seat, a steering wheel, and a door, is so suggestive of place and time that it evokes the car's occupants, their destination, and their world.
An automakers' intellectual property–often safeguarded for need-to-know personnel or destroyed–rarely gets a public viewing. Most of the illustrations, in fact, are from private collections. Colman said sourcing it all took a good bit of detective work.
The vehicles on show serve as talismans of the connection between art and reality, grouped by decade and starting with the postwar and techno-utopian optimism of the 1950s. Harley Earl's 1951 GM LeSabre concept hid technical flourishes like a cast magnesium hood and honeycomb floor behind styling from warplanes. Virgil Exner's 1957 Chrysler 300C was low-slung and mean enough for Mechanix Illustrated to dub it "the most hairy-chested, fire-eating land bomb ever conceived in Detroit." It also had enough panache for Mad Men types, and enough punch to take second in the flying mile at Daytona Beach in 1957.
Colman said the exhibit is also representative of the cyclical nature of design. The 1958 GM Firebird III, a Batmobile in all but name, fitted sensors for autonomous driving on GM's Highway of Tomorrow. That LeSabre had alt-fuels in mind, with one tank for gasoline and another for methanol. And drivers switched gears in the Chrysler 300C with the push of a button.
The road from there runs through the youth culture and rebellion of the 1960s and 1970s up to the modern supercar fixation. The 1980s are the only questionable stop, when the fetish for computers enforced straight edges on erstwhile sensuous lines. Design-wise, leaving the 1970 Plymouth Barracuda for the 1987 Chrysler Portofino concept is like giving up the Allman Brothers for a novice keyboardist experimenting on a Yamaha DX7. Even so, as a significant step in the journey of Detroit Style, the 1980s gallery, and the entire Detroit Style exhibit, should not be missed.
This content is created and maintained by a third party, and imported onto this page to help users provide their email addresses. You may be able to find more information about this and similar content at piano.io