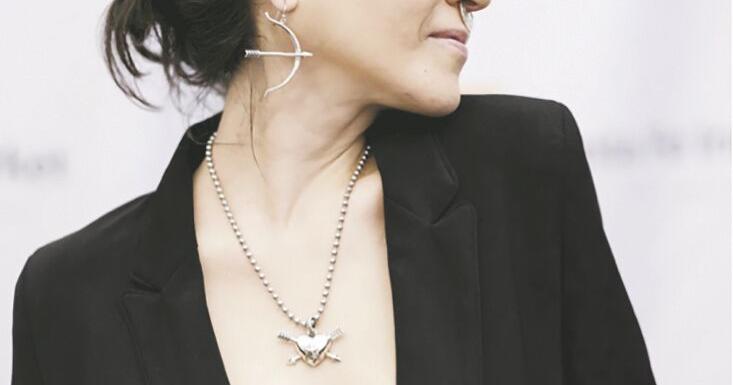 Arts and Culture News | Pasatiempo
Mountain Mover Media wins two Rocky Mountain Emmys
In early November, Santa Fe-based video production company Mountain Mover Media was awarded with Rocky Mountain Emmys for Becoming: ORLANDO DUGI in the Arts Programming (Short Form) category and for Yo Prometo for best Musical Arrangement/Composition. Becoming: ORLANDO DUGI is an eight-minute biopic on Navajo fashion designer and former Institute of American Indian Arts (IAIA) Artist-in-Residence Orlando Dugi. It was directed, shot, and edited by Mountain Mover Media's Kaela Waldstein and produced by IAIA Assistant Professor Amber-Dawn Bear Robe (Blackfoot/Siksika) for the Southwest Association for Indian Arts (SWAIA).
This is Bear Robe's and Waldstein's second Emmy for a collaborative project. The first was their 2018 video Walk with Pride: Santa Fe Indian Market's Haute Couture Fashion Show. The Dugi short follows the creation and reveal of the artist's 2020 Capsule Collection and explores the inspirations for his work. It was featured at SWAIA's 2020 Virtual Indian Market Fashion Show. mountainmovermedia.com — Michael Abatemarco
Institute of American Indian Arts wins award for Best Museum Studies Program
The National Emerging Museum Professionals Network (NEMPN) launched its first EMP Awards program in recognition of outstanding service to emerging museum professionals. The Institute of American Indian Arts' Museum Studies Department received an award for Best Museum Studies Program, along with The Cooperstown Graduate Program and The University of Washington Museology Master of Arts Program. The award recognizes the IAIA program's diversity and inclusiveness and the quality of education and training it provides to emerging museum professionals.
"We're one of the oldest museum studies programs at a school in the country, so it's a very well-established program," said Balzer Contemporary Edge Gallery Director Mattie Reynolds (Choctaw Nation of Oklahoma) in a press release. "Larger nonprofits and organizations that are dedicated to museum professionals and the field highlighting what IAIA does helps get our name out there as a competitive program for both Indigenous and non-Indigenous museum professionals." New Mexico is beginning its own NEMPN affiliate chapter through the New Mexico Association of Museums (NMAM), which will provide resources to current students and recent graduates in museum studies programs throughout the state. nationalempnetwork.org — M.A.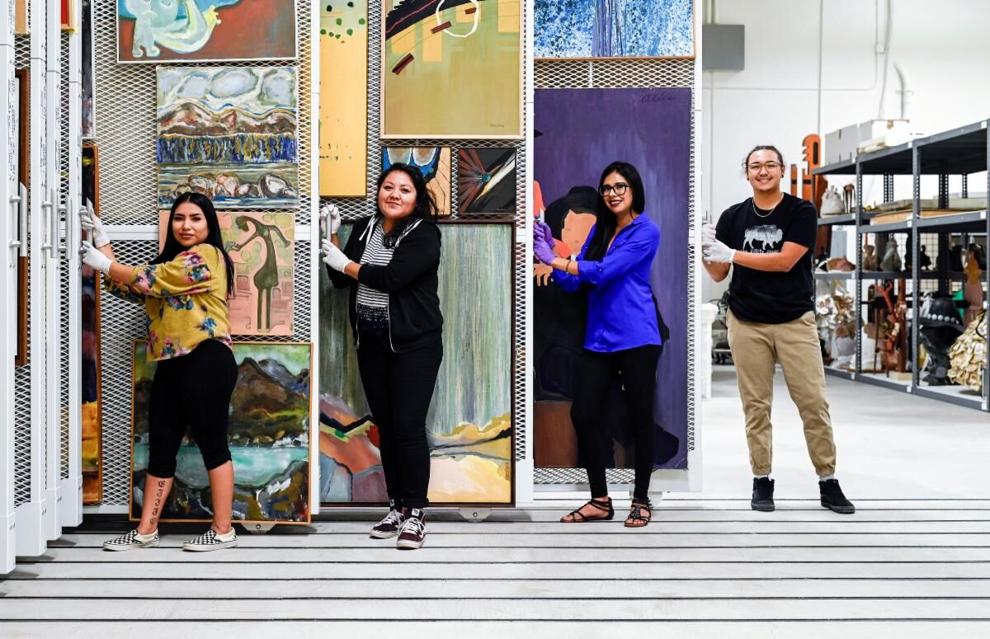 Local poet Christine R. Lund wins Southwest Book Design and Production Award for Me and Her Shadow
Southwest Book Design and Production Awards announced its 2021 winners and finalists, which includes local author and poet Christine R. Lund's Me and Her Shadow (Finishing Line Press, 46 pages, $14.99). "My poems in this chapbook celebrate the life of my daughter, Kaja Mauldin, who grew up here, and my journey of healing after her death at age 23," Lund told Pasatiempo. The book, which features a portrait of Mauldin on the cover, won in the poetry category.
The Southwest Book Design and Production Awards Competition is a yearly contest sponsored by the New Mexico Book Association. The awards recognize creativity and quality in book design and distinction in production in publishing throughout the Southwest. nmbookassociation.org — M.A.
Obscura Gallery facilitates grant from photographer Manuello Paganelli for emerging artist Shayla Blatchford
Shayla Blatchford, a Diné documentary photographer based in Santa Fe, was awarded the second grant from Obscura Gallery-represented artist Manuello Paganelli. The grant contributes to Blatchford's ongoing Anti-Uranium Mapping Project, which documents stories by those impacted by uranium mining and the 500 abandoned uranium mines on the Navajo Nation. "This interactive photo documentary map is very personal to me," Blatchford said in a statement. "It holds the story of my heritage and the stories of my own family facing the impacts of living near a coal mine. Ultimately, this project serves as historical documentation of the uranium mining era, from a Native perspective."
In addition to the $600 grant, Paganelli and Obscura Gallery offer grantees feedback and review of their portfolio and advise on their projects. Paganelli is a fine art photographer based in Los Angeles who chose a Native American photographer in New Mexico as a grant recipient for the second year in a row. Last year, he awarded a grant to Diné photographer Sharon Chischilly for her photographic work on the Navajo reservation during the Covid-19 pandemic. (Read about Chischilly's project at sfnm.co/30DbVNJ). obscuragallery.net — M.A.
Grant supports Native American filmmaking
The Santa Fe Film Institute received $10,000 from the Santa Fe Community Foundation's Native American Advised Fund to support the Indigenous Film Program it presents each October as part of the Santa Fe Independent Film Festival. "This grant will help SFiFF scour the earth for the best cinematic storytelling by Native American and Indigenous filmmakers from around the world," said festival advisory board chair Gary Farmer in a media release. The Indigenous Film Program was created by Farmer and has recognized such Indigenous filmmakers as Tantoo Cardinal, Wes Studi, and Chris Eyre.
The Santa Fe Independent Film Festival completed its 13th festival in 2021. This year's program included 17 features and short films created by Indigenous filmmakers and centered on Indigenous subjects. The Santa Fe Community Foundation's Native American Advised Fund was established in 1993 with a gift from the late sculptor Allan Houser (Chiricahua Fort Sill Apache). santafeindependentfilmfestival.com — Jennifer Levin
Santa Fe-based photography non-profit receives federal funding for lecture series
The National Endowment for the Humanities awarded the non-profit arts organization CENTER $162,500 in funding for a new discussion series, The Democratic Lens: Photography and Civic Engagement, in 2022-23. The series will be in six parts and is free to the public.
An electronic newsletter from CENTER describes the series as guided by a multidisciplinary scholar advisory council and as an exploration of historical accounts of American populations "who used photography as a tool for reshaping the cultural landscape of the United States. … We will tell the stories that shaped the country by reviewing the role of photography in American labor rights, the women's movement, the civil rights movement, indigenous movements, and more." visitcenter.org — J.L.
New Mexico Restaurant Association gives top award to Santa Fe chef
The Compound Restaurant chef-owner Mark Kiffin has been named the 2021 Chef of the Year by the New Mexico Restaurant Association. Kiffin dove into the Santa Fe restaurant world in 1990 as chef at Coyote Café and in 2000 took over The Compound, a historic upscale eatery on Canyon Road. Kiffin was named one of the Best Chefs in America by the James Beard Foundation in 2005.
"Under his energetic leadership, The Compound has won many awards for its food, wine, and service," said a media release from The Compound. "His superpowers of innovation, style, and freshness result in a contemporary American menu focusing on regional ingredients and local sourcing." compoundrestaurant.com — J.L.
Rotary Club announces Distinguished Artist of the Year
Mark Spencer is the Santa Fe Rotary Club's Distinguished Artist of the Year. Spencer was honored with a $5,000 cash award at the club's weekly meeting on Dec. 2. Spencer, 72, has lived in Santa Fe since 1976. His paintings have been exhibited at the New Mexico Museum of Art*, the Frye Museum in Seattle, and in local and international galleries. His most recent exhibition was a retrospective of his work at the Center for Contemporary Arts in Santa Fe.
The Rotary Club has made this award to a local artist who has achieved national recognition since 1981. Past recipients include Allan Houser, Agnes Martin, Nora Naranjo-Morse, and Elliot Porter. — J.L.