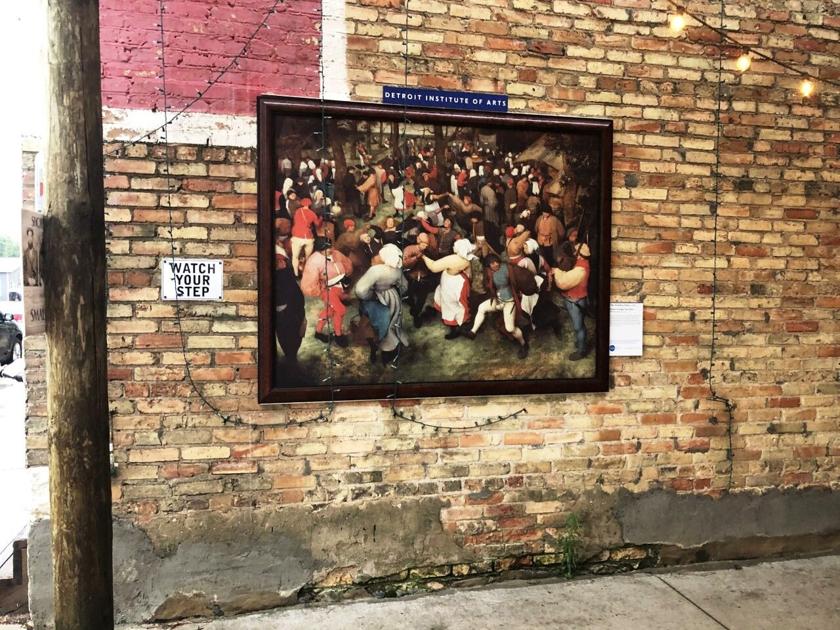 Outdoor masterworks bring DIA to downtown Bellaire | ETC
BELLAIRE — Autumn and art draw a compelling invitation to explore the streets of downtown Bellaire. The town partnered with Detroit Institute of Arts to exhibit eight reproductions of the museum's master works.
The collection on display through October features images that span antiquity to modern day. Works reflect different cultures, mediums and artistic styles.
Don Hoyt of the Bellaire Downtown Development Authority serves as the unofficial local curator for the DIA Inside/Out project.
"In Antrim County there are not the opportunities for art and culture as in bigger communities," Hoyt said. "Seeing the works and renowned paintings – you don't get opportunities in northern Michigan to do that."
Hoyt collaborated with the DIA on the walking tour's site selection. He said the family-friendly, accessible setting sparks a natural learning experience and prompts discussions across generations.
The weather-proof, quality reproductions hang in high traffic areas as well as unexpected locations to encompass three blocks. Works relate to host business, such as Vincent Van Gogh's "Bank of the Oise at Auvers" boat scene exhibited at Stone Waters Inn. Short's Brewing Company's Bellaire Pub displays the celebratory "The Wedding Dance," painted by Pieter Bruegel the Elder in 1566. The stone walls of Community Hall conjure "Babylon's Ishtar Gate" and frame an image of Mushhushshu-dragon.
DIA community engagement manager Ian Rapnicki said a little stretch of the imagination links a kaleidoscope of colorful pills sold by Bellaire Pharmacy to the primitivism style of the vibrant "Cycles" by Norval Morrisseau.
"Part of what makes the program so exciting are the moments of discovery," he said. "There are opportunities for people to happen upon images and have a spontaneous experience with art that hopefully adds interest to their day."
Other master works in the outdoor venue include "The Nut Gatherers" by William Adolphe Bouguereau exhibited at Uniquely North; "Asafo Flag" (artist unknown) at Bellaire Cinema; "Watson and the Shark" by John Singleton Copley viewed at the corner lot between Short's and Ruthies; and "Portrait of a Mughal Prince," (artist unknown, Islamic) seen at the Flying Pig/Ruthann's Garden.
Bellaire is one of five 2020 Northern Michigan Inside/Out installations. The DIA program's 11th season also brought outdoor exhibits to Mackinac Island, Ludington, Douglas and Hancock.
Bellaire DDA director Louise Wenzel said DIA approached the agency last January to propose the art project. Business owners jumped onboard to the community's benefit.
"It's been well received," Wenzel said. "Everyone talks about it."
Bellaire Chamber of Commerce Executive Director Sue Palmisano said the exhibit is a boon to the community of 1,000 residents.
"It's been great," she said. "People have loved it and it's brought people to town."
A cultural experience suited to the COVID-19 era, the exhibit complements downtown's social distancing initiative which established three open air spaces for enjoying local food and drink. These spaces will remain available as weather permits.
Find art walking tour maps at bellairemichigan.com.